Scientific WorkPlace (N/A) 6
LaTeX科學論文排版軟體
The Integration of LaTeX Typesetting and Computer Algebra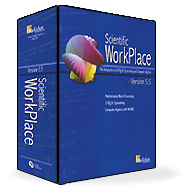 軟體代號:655
瀏覽次數:22622
多人版
教育版
學生版
商業版
再啟動服務
試用版
原廠技術服務
中文安裝手冊
永久授權
中文型錄
安裝序號
網路啟動
合法保證
電子英文手冊
ESD網路下載
常見問題Q&A
How to Register a Floating License
A floating license (sometimes called a concurrent license) sets a limit on the number of users who can access and use a program at the same time. If additional users want access, they must wait until others complete their use of the program. Thus, a set of 10 floating licenses for Scientific Word allows any number of users to access the program, provided only 10 people use it at any one time. If an 11th user tries to access the program, the licensing program tells the user there are no licenses currently available and to try again later. The 10 floating licenses are like 10 books in a library: any number of people can read them, but only 10 people at a time. More information about floating licenses
Because floating and site licenses are managed by a network administrator, individual users or floating or site licenses don't need to register their systems following installation, as they do with a fixed license. Instead, the system administrator supplies each user with a license file. This small file tells the program where to go to get permission to run.
To install the license file
Move or copy it to the licenses directory of the program installation.
Start the program. The program should display a message that your license file has been installed and all program functions are available.
If problems occur, check the Troubleshooting Information.